Happily Letter After by Vi Keeland and Penelope Ward is LIVE and the number #1 bestselling book in the Kindle store! You can read this romance book for free using Amazon Kindle Unlimited. Happily Letter After is at the top of my Best of 2020 Romance Book List! Check out my spoiler-free review below.
Try Kindle Unlimited for FREE for one month HERE
Buy Links:
FREE to read using Amazon Kindle Unlimited:
➜Amazon US: https://amzn.to/3cI9cEf
ALSO AVAILABLE IN PAPERBACK & AUDIO
➜Paperback: https://amzn.to/2GjXN1n
➜Audiobook: https://amzn.to/2EIAWMl
*As an Amazon Associate I earn from qualifying purchases.
➜Add to Goodreads:
https://www.goodreads.com/book/show/51494123-happily-letter-after
Synopsis:
From New York Times bestselling authors Vi Keeland and Penelope Ward comes a love story about taking chances, and the surprises that come with them.
My love story all started with a letter.
Only it wasn't from the man I'd eventually fall in love with. It was from his daughter. A sweet little girl named Birdie Maxwell who'd written to the magazine that I worked for.
You see, once a year, my employer fulfilled a few wishes for readers. Only that column didn't start up again for months.
So I fulfilled some of her wishes myself. It was harmless…so I thought. Until one day I took things too far.
While anonymously granting yet another of Birdie's wishes, I got a look at her father. Her devastatingly handsome, single dad father.
I should have stopped playing fairy godmother then. I should have left well enough alone. But I just couldn't help myself. I had a connection to this girl. One that had me acting irrationally.
Like showing up on their doorstep.
Happily Letter After by Vi Keeland
My rating: 5 of 5 stars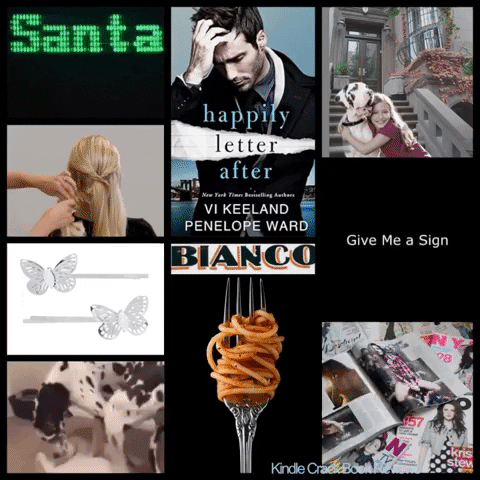 A strange thing happened to me while I was reading Happily Letter After, by Vi Keeland and Penelope Ward. I almost exclusively read on my Kindle, but today was the first time in a long time, that was I thankful to be holding a physical copy of the book. Happily Letter After felt so special that I had the overwhelming need to hug the book. Is that weird that I needed to hold a paperback physically? Maybe, but this story felt like it hugged my soul.

I hit the last page, and I planed to contact Vi and Penelope to tell them how I felt. I wanted to tell them that this might be my all-time favorite co-written book by them. It feels weird saying it because I love all of their books, and I didn't want to commit to saying this "was my favorite." So I didn't write my note. Instead, I went outside to reread a few key scenes with Sebastian, Sadie, and Birdie to take a few notes for my review and make a cute graphic. While I was copying down a quote, a bird decided to poop in my book, hitting Birdie's name! I know, gross. This story was all about fate; those crazy "meant to be" moments and signs in life and coincidences. You'll understand the strange significance of this random act once you read this book. I ended writing that note about my feelings since a little birdie put it out there. You would think I would be mad that a bird crapped in a signed book that I loved. Nah, it was meant to be. It was a sign that I needed to send it.

HLA is on the top of my Best of 2020 book list.