Check out my review of Logan and enter for a chance to win a signed paperback! I LOVED this book.
Title: Logan – A Preston Brothers Novel #2
Release Day: October 1, 2017
BUY LINK - FREE ON KINDLE UNLIMITED
As a kid, Logan Preston was a brat.
Through his teens, he became the bad boy.
Now, at nineteen, no one knows what the hell to expect.
High school dropout, Logan Preston is a
good-for-nothing stoner.
A black sheep.
A disappointment.
The worst Preston Punk of the lot.
At least that's how everyone in his small town
makes him feel.
But Logan Preston has secrets.
Secrets so dark and so deep below the surface that the only way he can fight them is to stay high, high, high.
He wears cockiness as a mask.
Arrogance as his armor.
Until one girl, one night, asks one life-changing question:
What's beneath the bravado, Logan Preston?
Lucas (Preston Brothers Novel) #1:http://amzn.to/2xNEIOh
REVIEW OF LOGAN
Logan by Jay McLean
My rating: 5 of 5 stars

My book hangover has a hangover. Omg the feels on acid.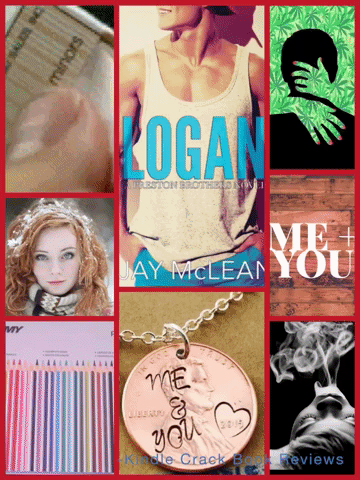 She did it again. She ripped out my heart, stomped on it and put it back together again. I'm pretty much emotional road kill and have a monumental book hangover after Logan by Jay McLean.

This book channeled all of the old school feels I cherish so much from the More series. Jay's books created my "feels barometer." Does this make sense? I live for these feels. I'm not telling you a thing about this book. Go in blind. That's the thing about Jay's books. I never read the synopsis. There's no need. She writes it, and I'm reading it and never disappointed. It's like a blind date with a book. The thing is I know JMac's books are a sure thing ;) Bravo JMac!
Jay McLean is an international best-selling author and full-time reader, writer of New Adult Romance, and most of all, procrastinator. When she's not doing any of those things, she can be found running after her two little boys, playing house and binge watching Netflix.
She writes what she loves to read, which are books that can make her laugh, make her hurt and make her feel.
Jay lives in the suburbs of Melbourne, Australia, in a forever half-done home where music is loud and laughter is louder.
SIGNED PAPERBACK GIVEAWAY