I read Without Merit by Colleen Hoover a few months ago. It took me quite some time to digest all of the complex emotions I felt after reading this book. Look for my 5-star spoiler-free review below. I'm so excited for you guys to read this book. Without Merit will release on 10/3.

#withoutmeritbook
Atria Books Paperback | 384 pages | ISBN: 9781501170621 | October 3, 2017 | $16.00
eBook: 384 pages | ISBN: 9781501170638 | $7.99
ORDER WITHOUT MERIT:
Not every mistake deserves a consequence. Sometimes the only thing a mistake deserves is forgiveness.
ABOUT WITHOUT MERIT:
The Voss family is anything but normal. They live in a repurposed church, newly baptized Dollar Voss. The once cancer-stricken mother lives in the basement, the father is married to the mother's former nurse, the little half-brother isn't allowed to do or eat anything fun, and the eldest siblings are irritatingly perfect. Then, there's Merit.
Merit Voss collects trophies she hasn't earned and secrets her family forces her to keep. While browsing the local antiques shop for her next trophy, she finds Sagan. His wit and unapologetic idealism disarm and spark renewed life into her—until she discovers that he's completely unavailable. Merit retreats deeper into herself, watching her family from the sidelines, when she learns a secret that no trophy in the world can fix.
Fed up with the lies, Merit decides to shatter the happy family illusion that she's never been a part of before leaving them behind for good. When her escape plan fails, Merit is forced to deal with the staggering consequences of telling the truth and losing the one boy she loves.
Poignant and powerful, WITHOUT MERIT explores the layers of lies that tie a family together and the power of love.
Without Merit by Colleen Hoover
My rating: 5 of 5 stars
I read Without Merit a few months ago. It took me quite some time to digest all of the complex emotions I felt after reading this book. I have two children (teenager and pre-teen), and this book made me think about my own family dynamics.

Everyone has felt like Merit at some point in their lives, alone but not lonely. I also believe everyone has some dysfunctional element to their family dynamics. Or maybe it's just me?

Without Merit is unlike anything Colleen Hoover has written. This is not a classic romance novel with your latest and greatest book boyfriend. This is the story of Merit, a seventeen-year-old girl who is battling her own personal demons within the walls of a repurposed church, turned family home. Merit is drowning in her own depression, which stems from issues with her own self-worth and her dysfunctional family relationships. Merit wonders if her family would even notice if she was gone.

"I didn't matter, but I don't. I hate it here, too. I don't matter here, either. If I dropped out of life, just like I dropped out of school, everyone's lives would go on. With or without Merit."

Merit is tired of being the crypt keeper of lies and secrets. Years of compressing and compartmentalizing it all has taken its toll on her emotional well-being.

"Maybe if I let all the secrets out, they wouldn't make me feel like drowning anymore. Yes. Maybe that would help. Maybe getting it all out will help me feel like I'm not about to implode."

Without Merit is infused with Colleen's signature wit and addictive writing style. She pulled on all of my emotions. This book was heartbreaking, humorous at times, raw and complex. While the topics were serious, as a reader I didn't find this book either dark or depressing. It made me think and feel along with the narrator. Colleen tackled some complicated topics with grace in this all-consuming, coming of age, soon to be YA/NA classic. She weaved an intricate web of emotions while unmasking the ugly reality of teenage depression. This story is thought-provoking and simply must be read. Not because it's a CoHo book, but because it's important. This book will touch everyone's heart and soul in that special way that Colleen does, time and time again.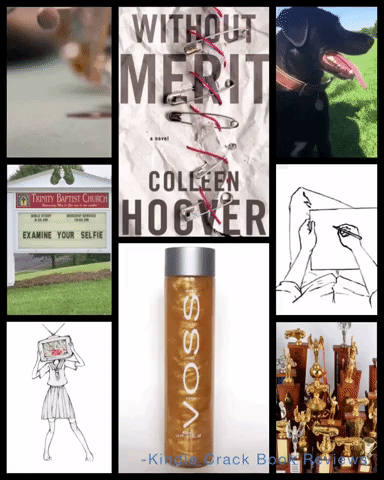 This review appears on
www.kindlecrack.net
,
www.facebook.com/kindlecrack
, Goodreads, Amazon, Pinterest, Google+ and Twitter. A review copy of this book was kindly provided by the author in exchange for an honest review.
ABOUT THE AUTHOR:
Author Colleen Hoover photo credit: Chad Griffith

Colleen Hoover is the #1 New York Times bestselling author of Slammed, This Girl, Point of Retreat, Hopeless, Losing Hope, Finding Cinderella, Maybe Someday, Ugly Love, Maybe Not, Confess, November 9, and It Ends with Us. She has won the Goodreads Choice Award for Best Romance twice – for Confess in 2015 and It Ends with Us in 2016. Confess was adapted into a seven-episode online series. In 2015, Colleen and her family founded The Bookworm Box, a bookstore and monthly subscription service offering signed novels donated by authors. All profits are given to various charities each month to help those in need. Colleen lives in Texas with her husband and their three boys. Please visit ColleenHoover.com.
FIND COLLEEN ONLINE:
GIVEAWAY:
Win 1 of 5 limited edition signed hardcover copies of WITHOUT MERIT! Contest is open until October 30th.