Meet Mia and Jensen in this beautiful standalone contemporary romance by Claire Contreras. #ClaireWrites
No, I didn't lose her. I threw her away.
I was never supposed to fall in love with her.
I was doing fine until she came back into my life and reminded me what love was supposed to feel like.
When it's all said and done, she may not want to stay, but this time I'm going to do everything in my power to not let her go.
Release Date: September 9, 2015
Paper Hearts is a standalone novel and available at:
Amazon ➺
http://amzn.to/2lby6Dn
B&N ➺ *still waiting*
iBooks ➺ http://apple.co/1Xdx3yb
Kobo ➺ http://bit.ly/1FlPqpo
Review of Paper Hearts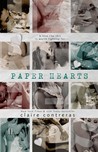 Paper Hearts by Claire Contreras
My rating: 5 of 5 stars
Dear Goodsreads & Amazon:
Why can't I leave six star reviews? C'mon Goodreads! I have only asked on three other occasions. I need the ability to leave more stars to show my love for extra special books like Paper Hearts.

Thanks,
Cheri at Kindle Crack Book Reviews

P.S. - I guess this is my review. It speaks for itself.

This review appears on www.kindlecrack.net, www.facebook.com/kindlecrack, Goodreads, Amazon, Google+ and Twitter. A review copy of this book was kindly provided by the author in exchange for an honest review.