Rebel by Laura Pavlov is LIVE and FREE to read using Amazon's Kindle Unlimited. Check out my spoiler-free review below. Rebel is a standalone romance in the Montgomery Brothers series.
Try Kindle Unlimited FREE for a month! https://amzn.to/2CX5zwH
Title: Rebel
Series: Montgomery Brothers #3
Author: Laura Pavlov
Genre: Contemporary Enemies-to-Lovers Romance
Release Date: January 5, 2021
GOODREADS LINK: https://www.goodreads.com/book/show/53253618-rebel
BLURB
JACK
I'm always down for a good time. I'm that guy.
I love women. I love sex. And I love my life.
Go big or go home, right?
My father's death is a constant reminder of why I like to keep it simple.
Life is short.
Emotional attachments make you weak.
Grieving sucks. And I have no interest in caring deeply for anyone outside of my family.
I'm not looking for complications.
Monroe Buckley is a complication.
She's driven.
She's focused.
And she's my best friend's little sister.
Not happening.
But once we're forced to spend time together…I only want more.
Too bad she's the one woman who is off-limits.
MONROE
I don't trust most people, and I have my reasons.
I'm passionate about my work, and I came here to do a job.
Not date the boss.
Getting hired at the top media company in the city is the break of my life.
But it means working for Jack Montgomery.
My one-time crush.
My brother's best friend.
And the current thorn in my side.
He's exactly what I want to avoid.
Yet he's everywhere I turn. Even when he's not there—he's in my head.
He's a magnet for attention.
A heartbreak just waiting to happen.
And my heart is something I fiercely protect. At all costs.
They say the heart wants what the heart wants...
But my heart isn't allowed to make that decision anymore.
There's too much to lose.
PURCHASE LINKS
Free in Kindle Unlimited
US: https://amzn.to/3hIOiHt
UK: https://amzn.to/3n5djOw
CA: https://amzn.to/36fqDcz
AU: https://amzn.to/3l9mddu
EXCERPT
I limped back to my office and found Monroe sitting in the chair behind my desk. I shut the door behind me and studied her.
"Nice to see you, darling," she said through her laughter.
"What are you doing?" I rubbed my lower back before stumbling to a chair and dropping to sit.
"Ah, a little sore, are we? Mr. Badass Football Player."
I rolled my eyes. "I'm fine. Why are you behind my desk, and what's with the evil smirk? What are you up to?"
She pushed to her feet and came around the desk. "I just thought I'd sit here with the door open, because I assume if we were actually dating, I would do that, right?"
"Good thinking, ole wise one."
"This is why I get paid the mediocre bucks." She used her pointer finger to tap her temple and smiled. "Don't forget, it's Tuesday. We're going back to The Dark Temptress tonight. Operation Dirty Reynolds is on."
I nodded. I had a private investigator following Simon, but I wouldn't tell her that just yet. I knew she wanted to do this on her own, and I didn't want to ruin all the fun. No one liked a buzzkill.
"Don't forget, we have the fundraiser at his house this weekend. You'll go as my date."
"No duh. We're dating. I have no choice." She moved to her feet.
"As if you aren't dying to go," I said, trying to stand and wincing because my muscles were screaming like little bitches.
She patted me on the back, just enough to make me flinch. "Buck up, buttercup. You've got a couple more weeks with me if you're lucky."
She waltzed out the door, and I stood frozen in my office. Partly because I had physically taken an ass-kicking this morning—but also because she was right.
I was lucky.
And I was in no hurry for my luck to end.
Review of Rebel
Rebel by Laura Pavlov
My rating: 5 of 5 stars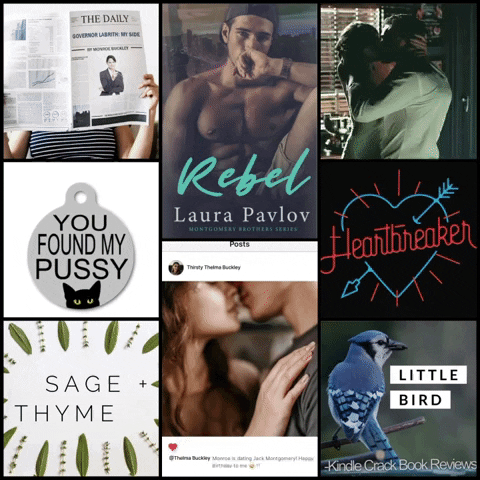 Jack's company hires Monroe, his best friend's little sister, to work as a reporter. Monroe is who is off-limits to Jack, her new boss, in more ways than one. Monroe doesn't like Jack since he hooked up with her "frienemy" track teammate in college. He also has a bad track record with serial dating half of San Francisco. Monroe wouldn't dream of dating Jack until she gets stuck fake dating him as a joke. When a fake relationship starts to feel, will the two be able to work through the demons of their pasts?

I loved the characters, this book, and the entire Montgomery Brother series. Just like all of the other books in this series of standalones, this one had the perfect blend of drama, feels, and fun to make this book a page turner. I always loved happy-go-lucky Jack. In Rebel, we got to see his loving and sensitive side. Rebel can be read and enjoyed as a standalone, but I would recommend reading the other brothers' books (since they were really good). Rebel might be my favorite book of this series! Rebel by Laura Pavlov is one-click worthy!