✦
GooglePlay
➙
https://goo.gl/ZbmXvg
Review of Well Hung by Lauren Blakely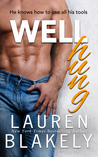 Well Hung by Lauren Blakely
My rating: 5 of 5 stars

5 Stars
Title: Well Hung
Author: Lauren Blakely
Release Date: September 12, 2016
No cliffhanger

It's time to get hung up on another book by Lauren Blakely. Wyatt is a dirty
talking builder who vows to stay away from his beautiful assistant Natalie. He knows he shouldn't nail her, but this contractor can't seem to keep his tool belt in check when it comes to Natalie. The nuclear chemistry between Wyatt and Natalie could burn a house down. It's all fun and games until things get serious. What a sexy, sweet and hilarious treat! It's Hammer time. Go one-click this one!

This review appears on www.kindlecrack.net, www.facebook.com/kindlecrack, Goodreads, Amazon, Pinterest, Google+ and Twitter. A review copy of this book was kindly provided by the author in exchange for an honest review.
Chandler
Buy Links:
Review of Chandler by Laurelin Paige
Chandler by Laurelin Paige
My rating: 5 of 5 stars

Chandler Pierce just rocked my book boyfriend world. Full review to follow!

UPDATE
Chandler Pierce just rocked my book boyfriend world. He steamrolled into my heart with his cocky, goofy and charming personality. His existence is controlled by his heart and his hard-on. Chandler is out to prove to his family and Genevieve, the woman of dreams, that he is the real deal in the corporate world and in her heart. Chandler is a fun, heartwarming and sexy addition to the Fixed Trilogy! Fixed series fans, Chandler is one-click worthy.
Playboy Pilot Buy Links:
Playboy Pilot by Penelope Ward
My rating: 5 of 5 stars

SPOILER FREE REVIEW
5 Stars
Title: Playboy Pilot
Author: Vi Keeland & Penelope Ward
Release Date: September 19, 2016
No cliffhanger

I finished this book at 12:57 am. I woke up this morning, and my face still hurts from the perma-grin I had while reading this book. I laughed, I cried, I swooned (I'm not a swooner), and fogged up my Kindle screen with this sexy and fun love story.

I will never think about a LAYover in the same way ever again. Carter and Kendall's high flying romance flew into my heart, and it now has landed safely on my bookshelf.

There is one thing I dislike about Penelope Ward and Vi Keeland's books'…that they end. I never want them to end. I savor each and every page knowing the end will inevitably arrive.

Be prepared to pull an all-nighter and take the trip of a lifetime. This book is worth losing sleep over.

Full review to follow