Only Mine by Laura Pavlov is now live! Check out my spoiler-free review below and one-click this all-new contemporary romance. You can read Only Mine for FREE on Kindle Unlimited!
Download today or read for FREE with Kindle Unlimited
Amazon: https://amzn.to/3j1YL5N
Audio: https://amzn.to/3VXQYEy
Try Amazon Kindle Unlimited for the first month FREE —> https://amzn.to/3FVsvu4
Add to Goodreads: https://bit.ly/3ApITjz
Synopsis:
Wolf Wayburn is the devil in an Armani suit. Most women would drop to their knees at just the sight of him. Lucky for me—I'm not most women.
The first time we met, he cut me off at a gas station.
So, I flashed him the bird and mocked his family jewels.
The second time we met, he tried to get me fired.
He took his shot—and he missed.
At least for now.
Wolf Wayburn was an ex-Navy SEAL with an attitude.
But it would take a lot more than the big, bad Wolf to scare me off.
I had ninety days to win the man over.
To convince him that I was the right person for the job.
But spending endless amounts of time with him proved more challenging than I'd expected.
He was stubborn and broody and charming and sexy—all at the same time.
I despised him as much as I craved him.
We taunted and teased and terrorized one another for weeks.
The first time he dropped to his knees, it was to search me for a weapon.
The second time… it was an altogether different story.
I never planned to fall for the enemy.
Because I knew it was easier to hate Wolf Wayburn than to love him.
Spoiler-Free Review of Only Mine by Laura Pavlov
Only Mine by Laura Pavlov
My rating: 5 of 5 stars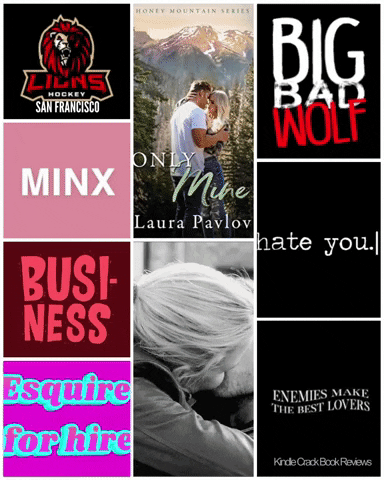 Only Mine by Laura Pavlov is the last book in the Honey Mountain series. I couldn't wait to read Dylan's story because she has been such a standout character in the series, and I had huge expectations. I'm thrilled to report that Only Mine surpassed my expectations. Dylan met her match when she finally came to terms with her feelings for her "enemy" co-worker, Wolf. That's all I will say because I want you to experience Dylan and Wolf for yourself. This hate-to-love-you workplace romance is five star Kindle Crack.

I knew writing this review would be bittersweet since this is the final book in the series. I've said it before, but it bears repeating, this series is truly small-town romance lovers gold!

The Honey Mountain series of interconnected standalones can be read individually, but I recommend reading them all to appreciate the sisters' relationships.

I'm thrilled that Laura is working on a spin-off series featuring Thomas' sister's cousin! I'm excited to read Into the Tide (Cottonwood Cove) when it releases in March 2023.
Laura Pavlov writes sweet and sexy contemporary romance that will make you both laugh and cry. She is happily married to her college sweetheart, mom to two awesome almost-grown kids, and dog-whisperer to one temperamental yorkie and one wild bernedoodle. Laura resides in Las Vegas where she is living her own happily ever after. Be sure to sign up for updates on new releases. Laura loves to hear from readers!
Connect with Laura
Website: https://www.laurapavlov.com/
Goodreads: https://www.goodreads.com/author/show/6569734.Laura_Pavlov
Amazon: http://amzn.to/3c1xKZX
Facebook: http://bit.ly/3eSvEdp
Facebook Group: https://bit.ly/2OKU6T5
Instagram: https://bit.ly/2TKf5Zs
Twitter: https://twitter.com/laurapavlov2
Bookbub: http://bit.ly/3ii8Vdp