We bonded through music. We're bound by sins. Music might save us.
Pieces of Us by Claudia Burgoa is now live! A sexy, angsty, excruciating emotional MM friends-to-lovers rockstar romance by USA Today Bestselling Author Claudia Burgoa. The first book in the Second Chance Sinners duet will leave you with a cliffhanger that might make you lose your breath. Check out my spoiler-free review below!
Download today on Amazon, Apple Books, Google Play, Kobo, Barnes & Noble!
Amazon: https://amzn.to/3alvEmy
Apple Books: https://apple.co/2P0wP3l
Nook: https://bit.ly/PiecesofUsNook
Kobo: https://fave.co/3dwz0oR
Google Play: Coming Soon!
Add to Goodreads: http://bit.ly/2LSdu2u
Music brought us together. Tragedy bonded us forever.

The Sinners of Seattle were the only family I knew.
That's where I met Ethan "Kill" Killion.
Both of us had bad childhoods. We knew all about unrequited love.
You know what they say... misery loves company.

We shared firsts.
We shared nights.
One of us fell in love. It wasn't him.

After the band broke up, Kill became the CEO of a communications firm.
Turns out, suits suit him. He's found success.
And he's getting married.

He's marrying someone who can't understand him.
Who has no idea what it's like to lose control.
Not to have a future.
I'm trying to stay sober, but it's hard when my world has crumbled.

Unrequited love can destroy you. I know.
But just one call from him reignites our spark.
Now there's no stopping it.
When things get dark, I don't care if I am shattered into pieces.
I just need one last time.


Review of Pieces of Us
Pieces of Us by Claudia Y. Burgoa
My rating: 5 of 5 stars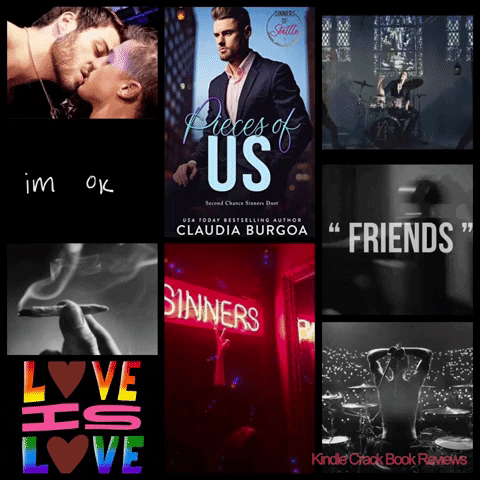 Pieces of Us by Claudia Burgoa (Second Chance Sinners #1) stole a piece of my heart. This all-consuming and additive second-chance mm romance is equally tragic and angsty. I couldn't put this book down if I tried. I hit the last page and felt like I got sucker-punched in the feels. I cannot wait to read Somehow Finding Us (Second Chance Sinners #2) when it releases on 5/4.

About Claudia:
Claudia is an award-winning, USA Today bestselling author.

She writes alluring, thrilling stories about complicated women and the men who take their breath away. She lives in Denver, Colorado with her husband and her youngest two children.

She has a sweet Bichon, Macey, who thinks she's the ruler of the house. She's only partially right.

When Claudia is not writing, you can find her reading, knitting, or just hanging out with her family. At night, she likes to binge-watch shows with her equally geeky husband.
Connect with Claudia:
Website: https://claudiayburgoa.com/
Goodreads: http://bit.ly/CBGrGroup
Amazon: http://geni.us/CBAmazon
Facebook: http://bit.ly/CBFcbook
Facebook Group: http://bit.ly/Chicasgroup
Instagram: http://bit.ly/ClaudiasIG
Twitter: http://bit.ly/TweetCb
Bookbub: http://bit.ly/CBBookbub
Pinterest: http://bit.ly/ClaudiaPinterest
Book+Main: http://bit.ly/BitesCB