Flow, the prequel to GRIP, by Kennedy Ryan is now live and TOTALLY FREE! And GRIP, the riveting full-length conclusion, is LIVE! Check out my review below!
Check out the Teespring Campaign!

www.teespring.com/GetAGrip
ENTER THE GIVEAWAY on Kennedy's Page!
"The story reads like a movie . . powerful and intoxicating ... and sinfully sexy. GRIP has everything—dynamic characters, soulful plot, and a lesson at the end that will change the way you look at life. One of my favorite reads this year. Maybe ever. 5 massive, gripping stars from me!" -- Adriana Lock, USA Today Bestselling Author
Grip leans into me, pushing back my hair and rolling his still-icy beer bottle over my neck. I swallow, but don't dare look at him, hoping he'll drop it, but he doesn't.
"When you grow up on the streets, you don't just develop a sixth sense." He captures a lock of my hair and tests it between his fingers. "You have six, seven, eight, nine of 'em, because those instincts could be the difference between death or life. My mom and Jade have so many senses they almost know what you're thinking before you think it. And even though I've never told her, Jade only had to be in the room with us for a hot minute to know I want you."
I clench my eyes closed and pull in a stuttering breath, trapping my bottom lip between my teeth.
"Jade's right," he continues as if I hadn't spoken, hadn't asked him to stop. "My mom would flip if I brought a white girl home. If I brought you home. Maybe it is bigoted and ancient, but that's just her. You know better than most that we don't get to choose our family, but we still gotta love them."
I don't respond to that. He knows how contentious things have been between my brother and my parents. Beyond the headlines everyone else has seen, he knows how hard I've worked to reconcile them. I moved to LA to help Rhyson with his career, yes, but also to bridge the country-wide chasm between the two factions of my family.
"Like you, I'd do anything for my family." He comes in an inch closer, caressing under my chin and tilting it up with his index finger. "But if you'd ever give me a shot, I wouldn't give a fuck what anyone thought. I'd take you home to my mama."
I'm a little too high and a lot too horny for this conversation, for the stone-hard thigh pressing against me, for the heat coming off his body and smothering my resistance. I try to sit up, hoping it will clear my head so I can make my escape, but his hand presses gently into my chest, just above the swell of my breasts, compelling me back into the cushion. His lips hover over mine, and I will him to kiss me because I'll make the first move if he doesn't. After years of not moving, I have no idea how I'll explain that once the smoke clears.
Sometimes at night after the chaos dies, I think about our first kiss at the top of a Ferris wheel. Just like then, his lips start soft, brushing mine like wings in sweet sweeps, coaxing me open and delving into me. Sampling me, he groans into my mouth and chases my tongue. The rough palm of his hand cups my face, angling me so he can dive deeper. He doesn't come up for air, but keeps kissing me so deeply I can't breathe. He tastes so good, I'll choose him over air as long as I can. Why is it never like this with anyone else? I want it to be so bad, but it never is.
He releases my lips to scatter kisses down my neck. My back arches, and my nipples go tight. He knows that's my spot. After all this time, he still knows. My neck is so incredibly sensitive, a gateway to the rest of my body.
"You taste exactly the same." His words come on a labored breath in my ear. "Do you know how long it's been since I kissed you?"
"Eight years." He shakes his head, eyes riveting mine in light lent by candles and the moon. "And you taste exactly the same."
JOIN THE SPOILER ROOM AFTER YOU FINISH! http://bit.ly/2m8xEqf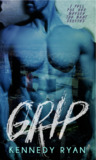 Grip by Kennedy Ryan
My rating: 5 of 5 stars

I'm in love with Grip. Full review to follow.

Bristol and Grip come from two different worlds. Bristol is white and grew up in a privileged and dysfunctional family. Grip is black and grew up in a heavily gang-infested area in California with tight family ties. Bristol meets Grip, her brother's best friend, while visiting him during a break from college. While they couldn't seem more opposite, the two couldn't be more similar in so many ways. Grip is a super talented musician who is trying to make it in the music business. Bristol plans on pursuing music management after graduation. Their physical and emotional chemistry is off the charts, and they decide to see if they can make a long distance relationship work. An unfortunate misunderstanding causes the two music lovers not to speak until they see each other eight years after they met.

OMG, where did this book come from? I loved every heartfelt moment - even the ones that gave me anxiety. I found myself messaging a friend late night who was reading Grip at the same time. Both books, Flow (#0.5 prologue) and Grip (Grip#1) are packed with a ton of poetic, emotional intensity. I have some serious love for Grip and Bristol. Both characters were strong and smart. They didn't see black or white; they saw love. When she finally got a grip on her feelings her love flowed. Don't wait to read this their story. Epic. I can't wait to read other books by Kennedy. Wow!!!

You do not have to have any affinity for hip hop or rap music to appreciate this beautiful love story. I have to tell you that I'm no stranger to hip hop and have been a fan of this genre since the 80's. I just saw DJ Kool & Rakim perform a few weeks ago. I have a whole new appreciation for this music after reading this gripping series.

This review appears on www.kindlecrack.net, www.facebook.com/kindlecrack, Goodreads, Amazon, Pinterest, Google+ and Twitter. A review copy of this book was kindly provided by the author in exchange for an honest review.
Kennedy loves to write about herself in third person. She loves Diet Coke…though she's always trying to quit. She adores her husband…who she'll never quit. She loves her son, who is the most special boy on the planet. And she's devoted to supporting and serving families living with Autism.
And she writes love stories!
Facebook:

http://facebook.com/KennedyRyanAuthor
Book Group:

https://www.facebook.com/groups/681604768593989/
Bookbub:

https://www.bookbub.com/authors/kennedy-ryan
Amazon:

http://amzn.to/2jTjDuU
Goodreads:

http://goodreads.com/author/show/7429243.Kennedy_Ryan
Google +:

http://plus.google.com/u/0/+KennedyRyanAuthor/posts
Pinterest:

https://www.pinterest.com/kennedyryan/