Confess is finally here! Check out my spoiler free 5 star review and enter to win a signed framed print from the book or a signed copy of Confess. I confess...I LOVE this book and CoHo.
Paperback ISBN: 9781476791456, $16.00
eBook ISBN: 9781476791463, $7.99
SYNOPSIS:
From #1 New York Times bestselling author Colleen Hoover, a new novel about risking everything for love—and finding your heart somewhere between the truth and lies.
Auburn Reed has her entire life mapped out. Her goals are in sight and there's no room for mistakes. But when she walks into a Dallas art studio in search of a job, she doesn't expect to find a deep attraction to the enigmatic artist who works there, Owen Gentry.
For once, Auburn takes a risk and puts her heart in control, only to discover that Owen is keeping some major secrets from coming out. The magnitude of his past threatens to destroy everything important to Auburn, and the only way to get her life back on track is to cut Owen out of it.
The last thing Owen wants is to lose Auburn, but he can't seem to convince her that truth is sometimes as subjective as art. All he would have to do to save their relationship is confess. But in this case, the confession could be much more destructive than the actual sin…
Get Your Copy Now!
Amazon: http://amzn.to/1pEpVXi
Barnes & Noble: http://bit.ly/1ByXO2t
Blio: http://bit.ly/1poLcFa
Books-a-Million: http
://bit.ly/1v1oPJu
Google eBookstore: http://bit.ly/1uziFDT
iBooks: http://bit.ly/1poL8W3
IndieBound: http://bit.ly/ZoQqes
SEE MORE RETAILERS
REVIEW of Confess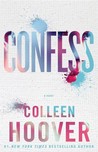 Confess by Colleen Hoover
My rating: 5 of 5 stars



Title: Confess
Author: Colleen Hoover
Release Date: March 10, 2015
Rating: 5 stars
Cliffhanger: No
Spoiler-free review

OMG (Oh My God) is commonly used text lingo. It has it taken on a whole new meaning in Confess - Owen Mason Gentry (OMG)

"The confessions you read within this novel are true confessions, submitted anonymously by readers. This book is dedicated to all of you who found the courage to share them."

Two worlds collide and life will never be the same. Auburn falls for a local artist named Owen. She learns that Owen isn't who he says he is and feels that he might be trouble. Auburn decides that in order to stay on track she needs to cut Owen out of her life. If Owen comes clean and confesses his secrets…they might have a chance. Are some secrets best left untold or is it easier to confess?

This book captivated me from the first page to the last. Owen and Auburn's story unraveled in a unique and beautiful way. This touching story has the all the twists and turns you are used to getting from Colleen's books. Colleen is a master storyteller, and this story came to life infused with artistic brilliance and emotion. "Good books don't give up their secrets all at once." Lucky for us Colleen is a good secret keeper. We don't find out how Owen and Auburn really know each other until the end. While this book didn't leave me as emotionally drained as her other books, Confess was a beautiful, heartfelt story of love, life, and sacrifice.

My confession: I didn't read the synopsis before I started this book. It didn't matter. I knew it was by CoHo, and I knew I had to read it. OMG this book gets five truth be told stars.

This review appears on www.kindlecrack.net, www.facebook.com/kindlecrack, Goodreads, Amazon, Pinterest, Google+ and Twitter. A review copy of this book was kindly provided by the author in exchange for an honest review.

About the Author:
Colleen Hoover is the #1 New York Times bestselling author of Slammed, Point of Retreat, This Girl, Hopeless, Losing Hope, Maybe Someday, Finding Cinderella, and Ugly Love. She lives in Texas with her husband and their three boys. Please visit ColleenHoover.com.
Find Colleen online:
Website: www.ColleenHoover.com
Facebook: www.Facebook.com/ColleenHoover
Twitter: @ColleenHoover
Instagram: @ColleenHoover
GIVEAWAY
Enter for a chance to win! Visit Atria's Tumblr page from 3/9 – 3/22 to enter to win and a grand prize of a signed framed print of one of the images in the book plus a signed copy of CONFESS or one of the runner up prizes of one of four signed copies of CONFESS
Giveaway Link: http://atriabooks.tumblr.com/post/111577069121/confess.