Always Mine by Laura Pavlov is LIVE and FREE to read in Kindle Unlimited. Check out my spoiler-free review below. I loved this new small-town romance.
Try your first month of Kindle Unlimited for FREE! https://amzn.to/3ExDWpj
Download today or read for FREE with Kindle Unlimited!
Amazon: https://amzn.to/3K1kEtD
Paperback: https://amzn.to/3vzgQKL
Add to Goodreads: https://bit.ly/3Br58V3
𝑯𝒆
𝒇𝒊𝒈𝒉𝒕𝒔
𝒇𝒊𝒓𝒆𝒔
𝒇𝒐𝒓
𝒂
𝒍𝒊𝒗𝒊𝒏𝒈
,
𝒃𝒖𝒕
𝒕𝒉𝒆
𝒇𝒍𝒂𝒎𝒆𝒔
𝒃𝒖𝒊𝒍𝒅𝒊𝒏𝒈
𝒃𝒆𝒕𝒘𝒆𝒆𝒏
𝒖𝒔
𝒎𝒂𝒚
𝒃𝒆
𝒕𝒐𝒐
𝒃𝒊𝒈
𝒕𝒐
𝒆𝒙𝒕𝒊𝒏𝒈𝒖𝒊𝒔𝒉
.
Niko West is the most beautiful man I've ever laid eyes on.
Six feet, four inches of broody, chiseled Greek god in a firefighter suit.
He's also been my best friend since kindergarten.
He always says the only solid thing in his life is our friendship.
He's Honey Mountain's favorite player and I'm what you'd call a relationship girl.
But when I find myself single for the first time since turning sixteen, I make Niko an offer he can't refuse.
Who better to show me what I've been missing?
But now that we've crossed that line, I don't know if friendship is enough for me.
Spoiler-free Review:
Always Mine by Laura Pavlov
My rating: 5 of 5 stars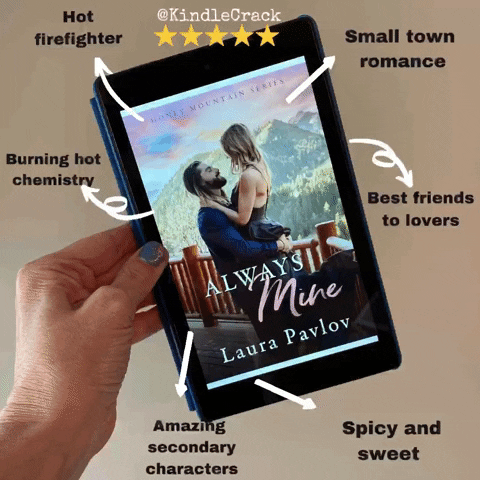 I'm in love with Laura Pavlov's new Honey Mountain series. I just finished Always Mine, the first book in Laura's new Honey Mountain series, that releases on 4/21. This heartfelt, friends-to-lovers small-town romance, pulled on my heartstrings and didn't let go. Niko and Vivi were such a great couple. I also loved the secondary characters so much that I hoped that Vivi's sisters got their own book! Sure enough, I hit the end and saw my wish come true. Ever Mind (Honey Mountain #2) will release on 6.23!
Meet Laura:
Laura Pavlov writes sweet and sexy contemporary romance that will make you both laugh and cry. She is happily married to her college sweetheart, mom to two awesome almost-grown kids, and dog-whisperer to one temperamental yorkie and one wild bernedoodle. Laura resides in Las Vegas where she is living her own happily ever after. Be sure to sign up for updates on new releases. Laura loves to hear from readers!
Connect with Laura:
Website: https://www.laurapavlov.com/
Goodreads: https://www.goodreads.com/author/show/6569734.Laura_Pavlov
Amazon: http://amzn.to/3c1xKZX
Facebook: http://bit.ly/3eSvEdp
Facebook Group: https://bit.ly/2OKU6T5
Instagram: https://bit.ly/2TKf5Zs
Twitter: https://twitter.com/laurapavlov2
Bookbub: http://bit.ly/3ii8Vdp