Check out my spoiler-free review of Sully's Fantasy by Pepper Winters. This is a standalone novella in the Goddess Isles series.
"Seductive, addictive, and unforgettably soulful, Goddess Isles is everything you love about dark romance and dangerous alphas." - Pam Godwin

This book will feature Sully's utmost desires. It will be a perfect bite of heart-fluttery spice. The best thing? It will be held at Hawksridge Hall when Sully travels to introduce Eleanor to Jethro and Nila (Indebted Series), and also meets Elder and Pim (Dollar Series). It will have long length cameos of Jethro and Nila, along with old locations from the New York Times Bestselling series Indebted.

Please note YOU DO NOT HAVE TO READ these novellas to finish Goddess Isles. The story concludes in FIFTH A FURY. These are just spicy bites with visits to Euphoria!
Review of Sully's Fantasy
Sully's Fantasy by Pepper Winters
My rating: 5 of 5 stars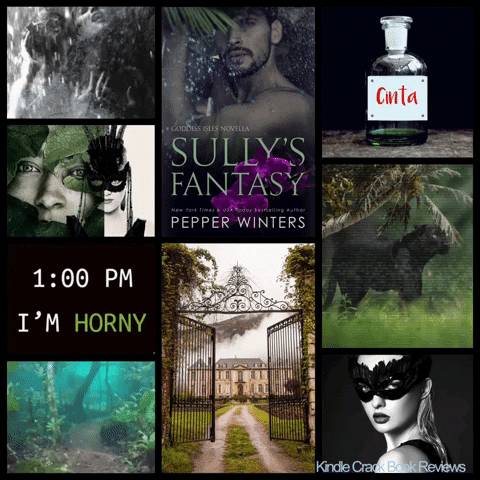 Sully gets a taste of his own medicine is this sizzling sexy Goddess Isles novella. Sully's Fantasy is a whole other dimension of hotness. This book was the quick and dirty escape I was craving. Pass me the Cinta, please. One-click this one.
Read the Goddess Isles Series:
THIS SERIES MUST BE READ IN ORDER:
Available on Amazon and other major platforms.
Pepper currently has thirty-one books released in nine languages. She's hit best-seller lists (USA Today, New York Times, and Wall Street Journal) thirty-seven times. She dabbles in multiple genres, ranging from Dark Romance to Coming of Age.
After chasing her dreams to become a full-time writer, Pepper has earned recognition with awards for best Dark Romance, best BDSM Series, and best Hero. She's an #1 iBooks bestseller, along with #1 in Erotic Romance, Romantic Suspense, Contemporary, and Erotica Thriller. She's also honored to wear the IndieReader Badge for being a Top 10 Indie Bestseller.
After releasing two books with Grand Central, Hachette (Ruin & Rule and Sin & Suffer) Pepper is a Hybrid Author of both Traditional and Self-published work.
For all film and foreign rights please contact Erica Silverman at Trident Media.
Connect with Pepper Winters:
Newsletter: https://pepperwinters.com/sign-up-to-pepper-winters-newsletter/
Facebook: https://www.facebook.com/pepperwintersbooks/
Instagram: https://www.instagram.com/pepperwinters/
Twitter: https://twitter.com/PepperWinters
Goodreads: https://bit.ly/3gosqze
BookBub: https://www.bookbub.com/authors/pepper-winters
Amazon Author Page: https://amzn.to/2ZD18OQ