Reel, an all-new epic CONTEMPORARY STANDALONE love story from Wall Street Journal bestselling author Kennedy Ryan, is available now! Check out my spoiler-free review and enter Kennedy's $50.00 card and signed paperback giveaway!
"Reel is alive and pulsing like a beating heart.
This romance is a triumph of art and emotion."
--Talia Hibbert, New York Times bestselling author
SYNOPSIS:
One moment in the spotlight.
For months I stood by, an understudy waiting in the wings, preparing for my time to shine.
I never imagined he would watch in the audience that night.
Canon Holt.
Famous film director.
Fascinating. Talented. Fine.
Before I could catch my breath, everything changed.
I went from backstage Broadway to center stage Hollywood.
From being unknown, to my name, Neevah Saint, on everyone's lips.
Canon casts me in a star-studded Harlem Renaissance biopic, catapulting me into another stratosphere.
But stars shine brightest in the dead of night.
Forbidden attraction, scandal and circumstances beyond my control jeopardize my dream.
Could this one shot—the role of a lifetime, the love of a lifetime—cost me everything?
GRAB YOUR COPY TODAY!
ALSO AVAILABLE IN AUDIO NOW!
Amazon: https://amzn.to/3vXJIvt
Audio: https://amzn.to/2RrkpTv
Amazon Worldwide: http://mybook.to/Reel
Apple Books: https://apple.co/2QMZZUN
Kobo: https://fave.co/3trvtNu
Nook: https://fave.co/3nNHJX8
Google Play: https://bit.ly/3gHMDUc
Amazon Paperback: https://amzn.to/33eR8Of
Barnes and Noble Paperback: https://fave.co/3nNHJX8
"Bravo . . .A true literary audio experience!"
-- Alexandria House, Amazon & Audible bestselling author
Narrated by Eboni Flowers and Jakobi Diem
Featuring Nicole Small
Vocal Performance by April Christina
➜ Audible: https://amzn.to/2RrkpTv
ENTER RELEASE GIVEAWAY ➜ https://geni.us/ReelReleaseGive
$50 GIFT CARD + Signed Paperback
JOIN THE ZOOM RELEASE PARTY ➜ http://bit.ly/REELPARTY
Spoiler-free Review
Reel by Kennedy Ryan
My rating: 5 of 5 stars

Kennedy Ryan beautifully weaved an emotion-packed story of love, art, and commitment in Reel (Hollywood Renaissance #1). Kennedy brings two interconnected stories to life in this first book in the new Hollywood Renaissance series. The first story is between director Canon Holt and Neevah Saint, the unknown actress he tapped to lead his highly anticipated Harlem Renaissance biopic about Dessi Blue, a little-known jazz singer. The second story is about Dessi's life that we learn about through the movie script, songs, and letters. This epic romance is made for Hollywood. Reel wasn't just about movie reel; it was REAL REAL! There was real history and unstoppable chemistry in this sizzling sexy and heartfelt romance. Reel is a standalone in the Hollywood Renaissance series. I cannot wait to read the other books!

"I don't know if you can understand. Do you have any idea how many Dessi Blues there are? Black artists who shaped our culture, made our music, but whose contributions have gone unacknowledged? Their stories just slipped through the cracks. People who, by all rights, should be household names, but nobody knows their names? All they have to show for what they did is a plaque in their hometown or a line on Wikipedia, if that."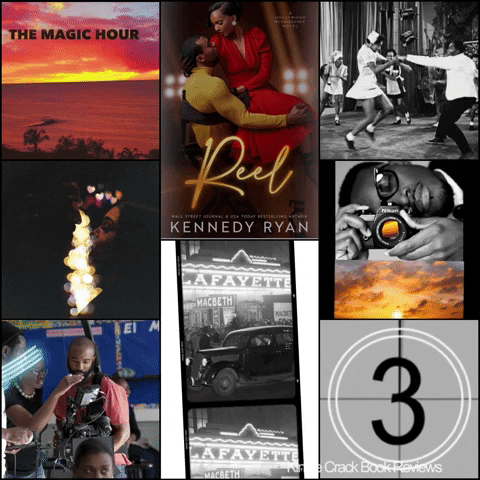 About Kennedy Ryan
USA Today and Wall Street Journal bestselling author, Kennedy Ryan and her writings have been featured in Chicken Soup for the Soul, USA Today, Entertainment Weekly, Glamour, Cosmo, TIME, O Mag and many others. A RITA® Award winner, Kennedy writes empowered women from all walks of life and centers those who have found themselves perennially on the margins of traditional storytelling.
Her Hoops Series (Long Shot, Block Shot and Hook Shot) and All the King's Men Series (The Kingmaker, The Rebel King and Queen Move) have been optioned for television.
An autism mom, Kennedy co-founded LIFT 4 Autism, an annual charitable initiative, and has appeared on Headline News, Montel Williams, NPR and other media outlets as an advocate for autism families. She is a wife to her lifetime lover and mother to an extraordinary son.
Connect with Kennedy
Text KennedyRyan to 797979 for release alerts!
Subscribe to Mailing List: subscribepage.com/kennedyryan
Reader Group: http://bit.ly/2GY6eyb
TikTok: @kennedyryanauthor
Instagram: http://bit.ly/2TaYiAi
Facebook: http://bit.ly/2GUq0uF
Amazon: http://amzn.to/2Fvhqiz
BookBub: bookbub.com/authors/kennedy-ryan
Website: http://kennedyryanwrites.com